Hidden in Plainview, Poems by Gayl Teller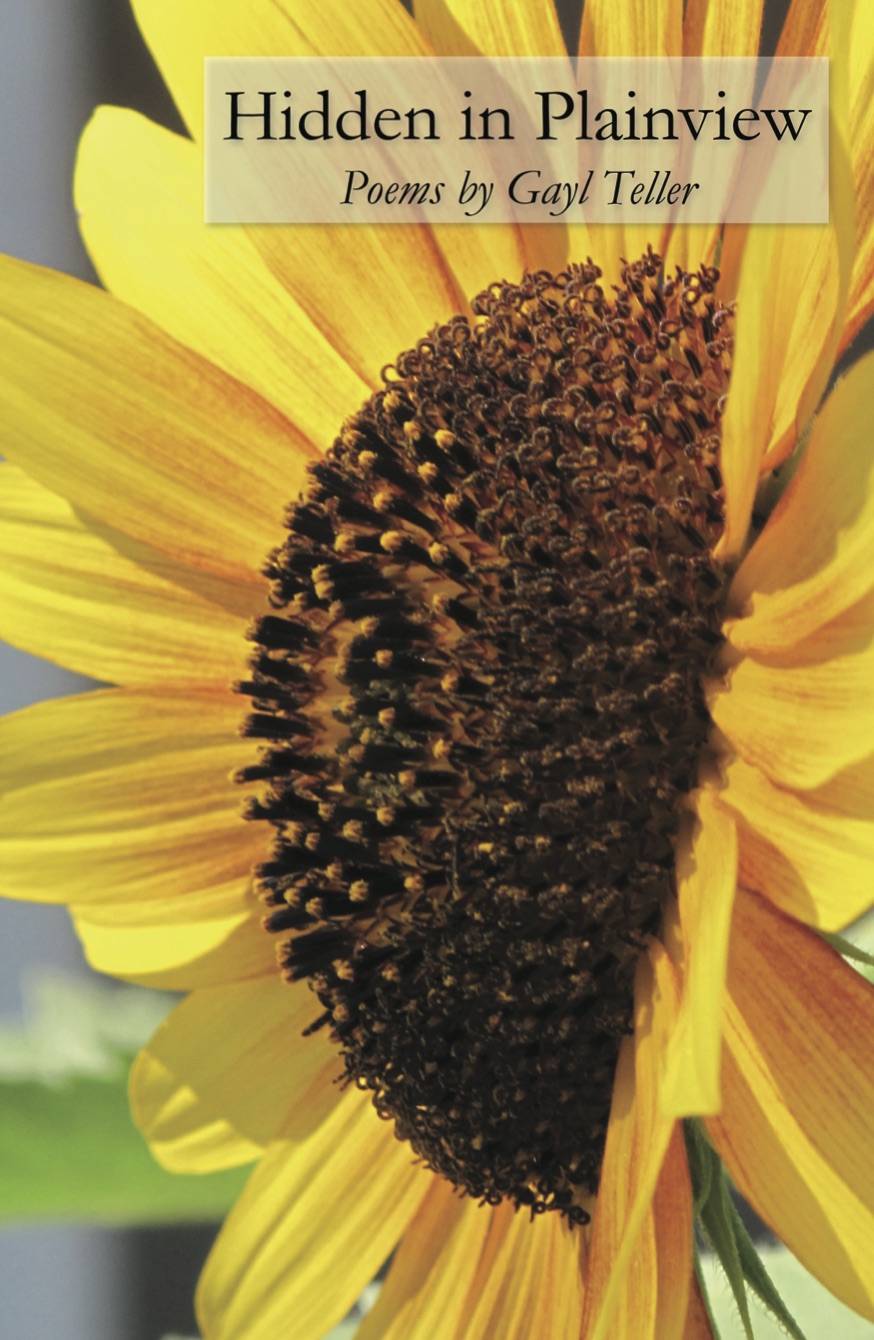 Gayl Teller's Hidden in Plainview is a celebration and an interrogation of our mortal world, seeking glimpses of the larger truths shrouded in the earth's lovely and disturbing particulars.
"There is a marvelous humanity in all her poems­"-Stephen Stepanchev
"Zesty, ebullient, capacious, and wise."-Molly Peacock
"She shows how small acts of compassion can have large reverberations in people's lives…A mind-stretching, heart-wrenching education in empathy."-Alfred Dorn
"Immense with kindness and poetic skill."-Michele Cooper
"Her total unflinching immersion into the things of this world-often that bridge the terrible and the tender-becomes ours."-Vince Clemente
"A prolific and determined voice…palpable, vivid poems… a delicate music."-Mindy Kronenberg, Book/Mark
"Moving poetry, extraordinary for its collective power, which deepens with each reading."-Donald Wilson, Small Press Review
"Her vision is broad and deep, informed by compassion for the human condition and salted by irony and a wry wit."-Norman Friedman
"A fine-tuned seismograph that registers the small changes and large-scale upheavals of the human condition."-Charles Ades Fishman
"In the search for a unifying spiritual center, a poet working from an unusually clear philosophical center."-Lois Walker
"Showing us harsh truths and ways we can cope… an important American poet."-David Axelrod
"One grows out of breath and admiration for this wise and touching poet whose vibrant language reverberates in memory."-Colette Inez
"She conjures up, to quote Dylan Thomas, 'the colour of saying' in poems that really add to one's own existence and experience."-Peter Thabit Jones
Nassau County Poet Laureate for 2009-2011, Gayl Teller received an MA from Columbia University and another MA from Queens College, CUNY. Her poetry collections are At the Intersection of Everything You Have Ever Loved, Shorehaven, Moving Day, One Small Kindness, and Inside the Embrace (WordTech/Cherry Grove Collections, 2010). She is the editor of Toward Forgiveness, an anthology of poems (Writers Ink Press, 2011). Director and founder of the Poetry Reading Series, at the Mid-Island Y JCC, in Plainview, NY, for the past eighteen years, she reviews the works of feature poets and judges the annual poetry contest for children, teens, and adults. She has been teaching in the English and Writing Studies and Composition departments of Hofstra University since 1985. As Nassau County Poet Laureate, she originated "Stray Feet," a roving poetry show visiting schools, nursing homes, senior and rehab centers, and libraries in Nassau County, and in 2010, her workshops/anthology project "A Poetry of Forgiveness" was awarded a New York State Council on the Arts Decentralization Grant for the Arts, which culminated in her editing Toward Forgiveness, an anthology of 99 LI poets, including five LI poets laureate, published by Writers Ink Press, in 2011. She has conducted numerous poetry workshops and seminars and been the feature reader at many universities, poetry centers, and libraries. She has served as a judge in the Poetry Out Loud National Recitation Contest, which encourages the nation's youth to learn about great poetry through memorization and performance. Her poetry has been awarded the Westmoreland Arts & Heritage Festival Poetry Prize, the Edgar Allan Poe Prize, the Peninsula Library Poetry Prize, a National Federation of State Poetry Societies Prize, a National League of American PEN Women Prize, and The Connecticut Writer Prize. Her poetry was featured in "Women's Words," the 30-Year Celebration of the League of Professional Theatre Women, at the Cherry Lane Theatre, in NYC and selected to be displayed and read in the 2014 Poets in Nassau Storycorps Event, at the Bellmore Memorial Library, in NY. In 2011, she received The North Sea Poetry Scene Recognition Award and in 2012, the Special Service Award of the Mid-Island Y JCC. Her poems are widely published and anthologized, and her reviews of poetry books have appeared frequently in Small Press Review. Her website is www.gaylteller.com. Born in the Bronx, NY, she has been a resident of Plainview, NY, for thirty-five years.
ISBN: 978-1625491589, 88 pages