Throat Singing, Poems by Susan Cohen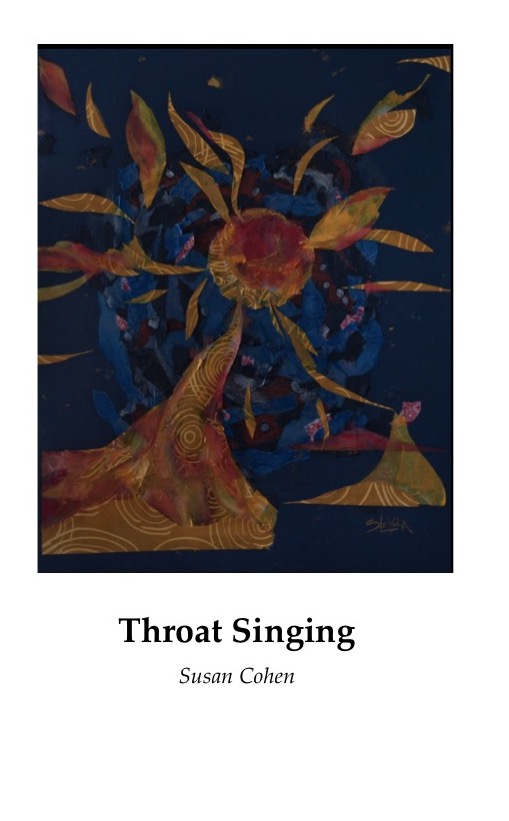 In Susan Cohen's Throat Singing, yearning takes shape in these poems' gorgeous, sonorous lines.
"Susan Cohen's poetry is like 'the black-eyed seal/that breaks the surface, shiny/with news of its deeper life.' Her book, Throat Singing,is a hymn to nature, art, and history. With each page, I stepped further into the forest, the museum, on a fantastic, rhythmic journey where a 'gray sky/is a stone any bird can enter.' She 'worries odds and ends/to luster' and makes 'honey sting/and gravel sing.' Her delight in language play is wry, surprising, mixing pathos with humor, showing us those 'turkey vultures' with 'not one/existential theory passed between them.' In a world where 'ants swarm a sparrow's heart,' Cohen writes of luck, 'that lavish, bounding luck, that doggy grin.' We are lucky to have this book."-Susan Browne
"Throat Singing is a collection intent on uncovering, with superb metaphor and acuity, the subtle everyday menaces and consolations of the world we live in. With a combination of artistry and investigative skill, Susan Cohen probes both life's domestic tenderness and its restless incongruities. Rivers are 'ferocious with silt.' Van Gogh's trees would 'run if they could.' Dogs know we're 'coming home to the wrong life.' Cohen's poems either deftly demonstrate the power of naming, or, as in 'At the Holocaust Museum,' find just the right narrative to acknowledge its inadequacy. Unstintingly, this book satisfies our quest for the poem that 'surfaces, re-surfaces, and keeps glistening'."-Jeanne Wagner
Susan Cohen has won many national awards for both her poetry and journalism, including the Rita Dove Poetry Prize from the Center for Women Writers and the Science in Society Award from the National Association of Science Writers, and has been nominated for a Pushcart Prize. Throat Singing, her first full-length collection, includes poems that appeared in Atlanta Review, Nimrod, Poetry East, Poetry International, River Styx, Southern Poetry Review, and Verse Daily among other journals, and in anthologies from Salmon Poetry and City Works Press. Also the author of two poetry chapbooks and a non- fiction book, and the mother of two, she lives in Berkeley.
ISBN 978-1936370665, 88 pages