Winner of the 2003 Cherry Grove Poetry Prize: Regarding Women by Barry Spacks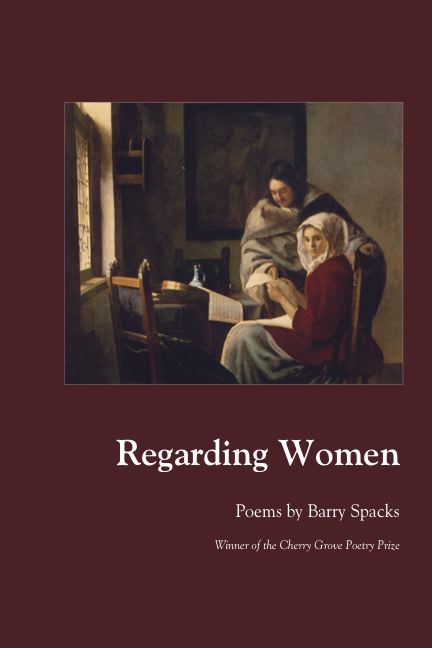 Regarding Women by Barry Spacks is an intimate meditation on its subject: women, relations between women and men, and their interconnections with the larger world. The quiet surface of these poems opens up teasing depths that the reader grasps more fully on each reading.
Barry Spacks, after many years of teaching at M.I.T., now earns his keep as a writing and literature professor in the English Department and the College of Creative Studies at UC Santa Barbara He's published poems widely in journals paper and pixel, plus stories, two novels, and (as of late 2004) nine poetry collections, the most extensive of which is Spacks Street: New And Selected Poems from Johns Hopkins. He has a CD out, "A Private Reading," presenting 42 poems selected from 50 years of poetry-work.
"Barry Spacks' poems have always been exceptionally readable because, even when the subjects are poignant or distressing, the words are at play, rejoicing in their adequacy to life. Clear, energetic, prodigal, ebullient, human, these poems are good company."—Richard Wilbur
"There is a recurrent humor, always rooted in affection...transfixing us with strokes of sobre wit. The basic mood is hopeful, lighthearted; poems end in easings of tension, outward motions of release...[they] partake of the quality of a saving miracle; we see literal event modulate effortlessly into myth."—Marie Boroff
"Spacks is that rara avis: a poet you immediately feel you would care to know personally: humane, intelligent, and compassionate, with a wry humor that sometimes operates at his own expense. Spacks reminds us that we have no grim duty to read poetry; it must entertain and illumine us, or it does not exist."—X.J. Kennedy
"Anybody who reads poems for pleasure is liable to be thought old-fashioned, and so is anyone who takes the skill and care that Barry Spacks does to make objects of real beauty out of his poems. I think the time for such readers, and for masterly lyrics like Spacks's, may have come round again, as fashions will."—William Meredith
IBSN 1932339299, 96 pages, $17.00