Bird Watching at the End of the World, Poems by Lisa Mangini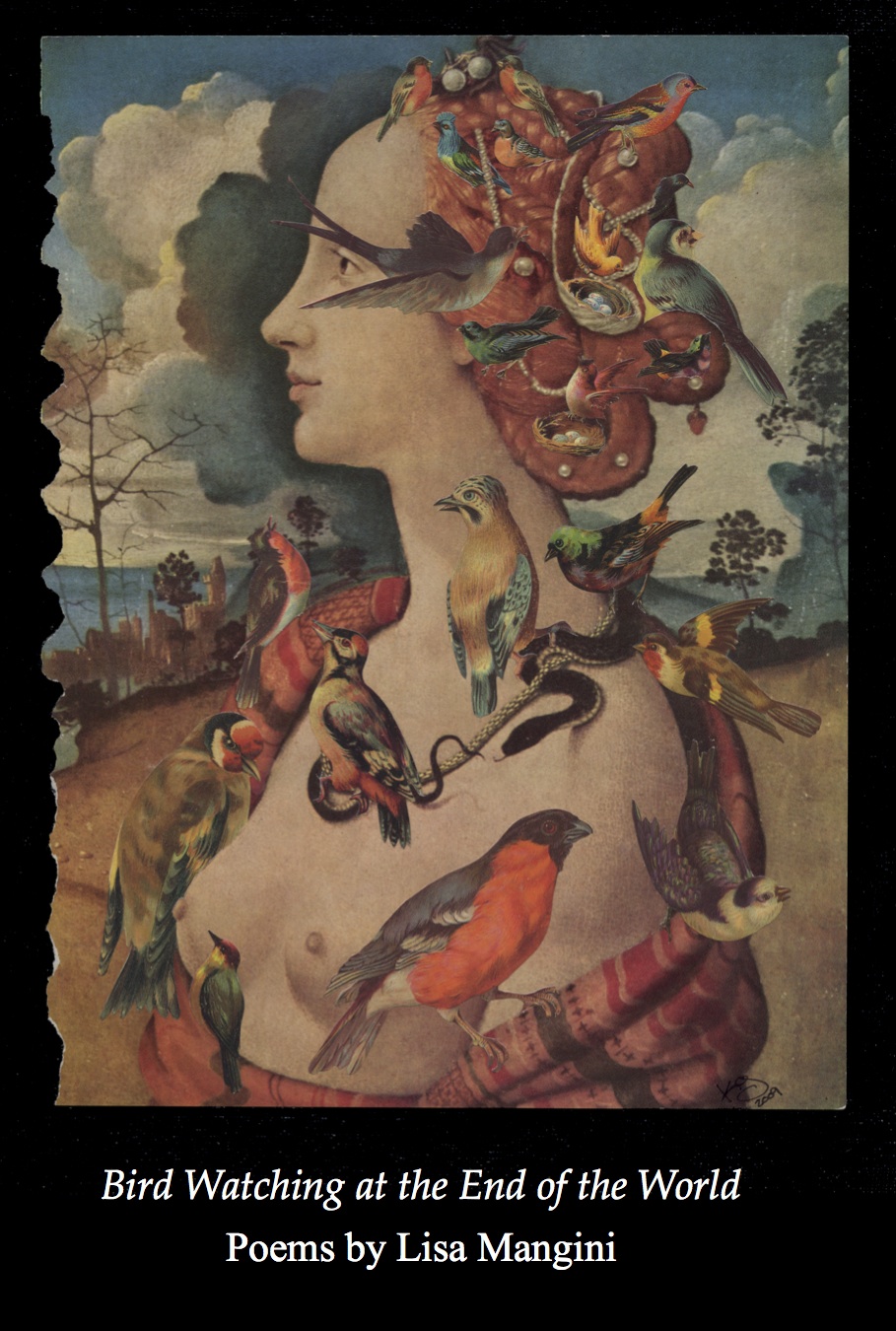 Bird Watching at the End of the World by Lisa Mangini explores the consequences of living in a body, the psyches of philosophers, and the tenuous nature of human connection. Using a range of poetic styles from formal verse to sprawling prose, this collection returns again and again to the persistence of doubt--even toward those we love the most.
"Fabulous in their diction, the poems of Lisa Mangini present a world of sadness and grace, particle and wave. Victims of the body, shadowed by the eighth Deadly Sin--not to be loved--these lovely vessels stuffed with philosophical gleanings and lyrical meditations make possible a future for poetry, and thus, for us."--Alan Michael Parker
"...Mangini crafts a world that is uncertain and violent, that is made more so by the people in it. In the face of this violence... the speaker hones her keen skills of observance. These poems are Picasso'ed birds - they contain and are the brokenness of our world. If we are brave enough to pick them up, to hold them, we will know a terrifying beauty. This is all we have. 'This will have to do.' "--Leah Nielsen
"By having the courage to confront disorder and chaos, Lisa Mangini reminds us that even though we live without closure, we must stay open to moments of communion by learning to live with 'quiet unfulfillment'...Mangini's vivid collection is compelling because the poems are hard edged, are solid because they are true." --Vivian Shipley
Lisa Mangini holds an MFA from Southern Connecticut State University. She is the author of three chapbooks: Slouching Towards Entropy (Finishing Line Press), Perfect Objects in Motion (Red Bird Chapbooks), and Immanuel Kant vs. God (Red Bird Chapbooks). She teaches English composition and creative writing part-time at Southern Connecticut State University and Asnuntuck Community College; she is also the Founding Editor of Paper Nautilus. She was raised in Enfield, Connecticut, where she lives still, traveling frequently to Central Pennsylvania. This is her first full-length collection.
ISBN 978-1625491015, 96 pages