Heat Seekers, Poems by Steve Lambert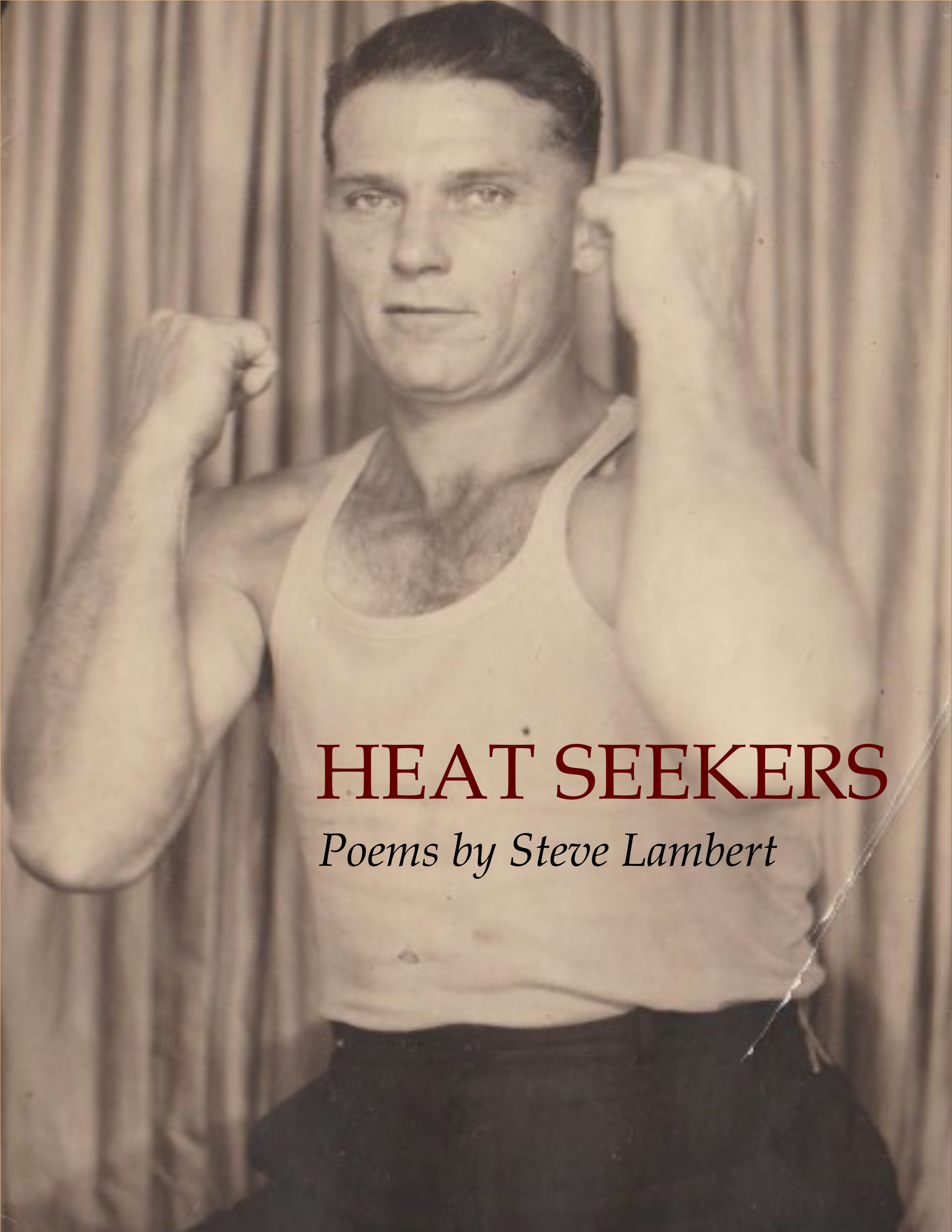 The wit of Steve Lambert's Heat Seekers is indeed sharp and fast, always finding the point of greatest impact.
"In this stunning debut of poetry, Lambert is a witness in a wild and tender and cruel world. With a flashlight, he illuminates each particular place and face he encounters, turning the ordinary into the extraordinary. Like the best of poets, he explores that delicate line between violence and tenderness, finding beauty in unexpected moments. It's easy to take flight in these poems, to get lost in the lyricism, but somehow Lambert always pulls us back, never letting us travel so far into space that we forget where we started. These poems are funky and imperfect and so full of life and energy; through the places and people he cracks open, we're reminded of what it's like to be alive and to love and to lose."—Liz Scheid
"In this bold and brilliant debut collection of poetry, Lambert drags his ambivalent pen across the vast human field of the sacred mundane and the quietly profound. With the unapologetic scrutiny of an investigator, he zig-zags in and out of the margins of his own divine experience, and the people who populate his tender world. From Southern Illinois and down into Florida, the poet leaves no landscape, physical or emotional, unexplored, and he does so with a rare kind of nonchalance not written since the mayonnaise days of Richard Brautigan. But in Lambert's case, the wise poems that make up Heat Seekers, are less concerned with whimsy or cleverness, and more concerned with illuminating the particulars, 'something to fit in the back pocket of your mind / a small worthwhile thing.'"—Tim Z. Hernandez
"Lambert offers a powerful vision both contemporary and primeval. Heat Seekers is at once subtle and penetrating; a tightly-woven, take-nothing-for-granted poetry with equal amounts of craft and heart. From laissez-faire crystals to family odes; gas station romanticism to dark solipsism; each section collectively offering an insight into time and place. With Heat Seekers, Lambert's home state of Florida gives you much more than a vacation postcard. As image-rich and convincing as any film, it's easy to know where his poetry stands: to fight and to love are the only options, and Lambert oozes out every bit of affirmation he can muster, delivering a sidewinding romanticism for a life and place that wins few trophies. An original voice as consistent in its vision as it is penetrating, this collection of poetry gives us nothing less than a new perspective, a second chance at the geography of our own lives: kiss the mud, hug your defeats as much as your victories, and read these poems—for fate is fortune and worth defending, and Lambert's collection shows how life is meant to be lived. Lambert's is a voice that recognizes beauty in the overlooked and unwanted, and this debut collection of poetry is how it's supposed to be: bold, loving, and above all, authentic."—Timothy B. Dodd
Steve Lambert's writing has appeared in Into The Void (Ireland), Red Truck Review, The Gambler, Spry Literary Journal, Deep South Magazine, Emrys Journal, The Cortland Review and elsewhere. His writing has been nominated for the Pushcart Prize and Best of the Net. He holds an MFA from UTEP, works in a library, and lives in Northeast Florida with his wife and daughter.
ISBN: 978-1625492494, 102 pages