The Third Body, Poems by Jeff Knorr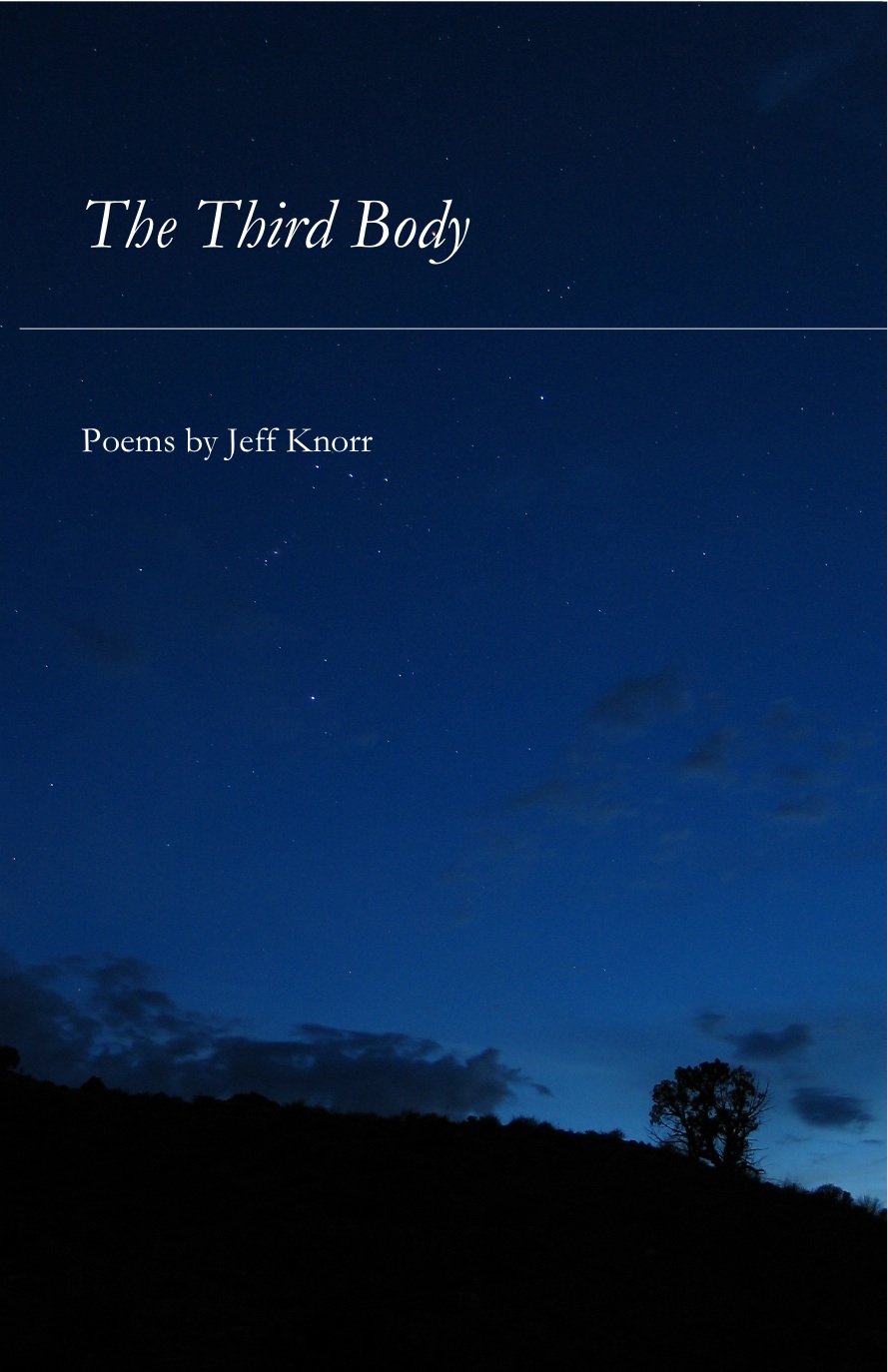 The graceful lyrics of Jeff Knorr's The Third Body are poems of longing--longing for connection with the natural world, and longing for human connection:
I look for Orion's belt you showed me years ago,
for the bear, because I call our son Osito,
and hope that across this canyon of night
our eyes might turn in the same direction,
reflect, become a moment of gravitational love.
Suffused with a sense of the spirit, Knorr's poems quietly, yet insistently, call the reader into their luminous presence.
"These are quiet yet intense poems celebrating family life, making the domestic universal and yet conversely, making external observations personal…And what could be more fresh than an American male voice in the new century singing stalwartly about happiness and love? I am totally captivated and convinced!"—Marilyn Chin, author of Rhapsody in Plain Yellow
"Jeff Knorr's The Third Body flexes considerable centripetal muscle, pulling every earthly thing within the poet's ample embrace. Here, the 'wonder of . . . things' brims within beloved wife and son and aging dog, within an ancient river, quiet horses, and the autumn orchard. Knorr evokes a world so ripe its fullness bursts into rot or flame, a cycle of richness forever on the verge. This welcome collection's lesson, its 'terrible secret,' is the knowledge that to love is to consume and to be consumed, a merging of bodies both enthralling and redemptive. This is a strong, honest, and mature book."— Kevin Stein, author of American Ghost Roses and Illinois Poet Laureate
Jeff Knorr is the author of the collection of poetry, Standing Up to the Day (Pecan Grove Press, 1999) and the collection of essays and poems, Keeper (Mammoth Books, 2004). His other works include the co-authored Mooring Against the Tide: Writing Poetry and Fiction (Prentice Hall); the anthology, A Writer's Country (Prentice Hall); and The River Sings: An Introduction to Poetry (Prentice Hall). Jeff Knorr currently lives in California's central valley with his wife and son.
ISBN: 978-1933456652, 80 pages