Small Worlds Floating, Poems by M.J. Iuppa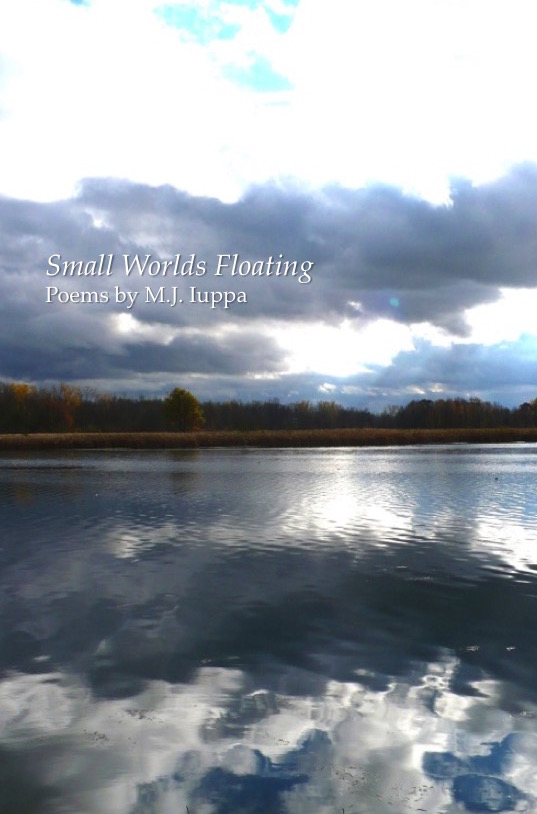 The small things of the world become worldly themselves under M.J. Iuppa's tender gaze in Small Worlds Floating.
"Crisp as autumn apples just snapped from the branch, M. J. Iuppa's poems nourish us. Barn dust in the crease of the beloved's neck returns to us the intimacy of orchard, farm, artwork, and long marriage. Deep roots in this world lead us to "another world's trembling door." This collection shimmers like dawn light on the lake. These wondrous poems deserve our trust."- Peggy Shumaker
"M.J. Iuppa is justly known for her attention to craft and her powers of observation, the ability to discover what is 'hidden in the bosom of common things,' as Henry James phrased it. Whether it's a young girl holding a balloon at a bus stop, chewing gum stuck on a tree, a recipe for yellow rice, or the egg-laying strategies of the snapping turtle, Iuppa is always adept at making us see the world anew. Sometimes it's a short phrase that does it, like 'no one can say how long / eternal will keep.' Sometimes a stanza: 'In bluish mud, red wrigglers /writhe like something / burning white / in this atomic cold.' Sometimes it's a story: a tooth pulled with a string, a fall in the Sistine Chapel, the theft of a snowman's head. Each of these 'Small Worlds Floating' is precise, not ornamental; shaped with love, not sentimentality."-John Roche
M.J. Iuppa, Director of the Visual and Performing Arts Minor Program, Writer-in-Residence (1999-2015) and Lecturer in Creative Writing at St. John Fisher College; and since 2000 to present, a part time lecturer in Creative Writing at The College at Brockport. Since 1986, she has been a teaching artist, working with students, K-12, in Rochester, NY, and surrounding area. From 1990 to 2006, She curated the Genesee Reading Series at Writers & Books, which continues to showcase area writers at all stages of their careers. She has two full length poetry collections, Night Traveler (Foothills Publishing, 2003) and Within Reach (Cherry Grove Collections, 2010); and 5 chapbooks, most recent is Between Worlds (Foothills Publishing, 2013), which is a collection of lyric essays, flash fiction and prose poems. In 1996, she was the recipient of the Writing In Rochester Award, honoring a teacher of writing for adult students who has impacted the creation and appreciation of literature in Rochester, and in 2015, Writers and Books' The Big Pencil Award, honoring her lifelong contributions to Rochester's Literary Community. At St. John Fisher College, she has received the Part-Time Faculty Award for Teaching Excellence, May 2000; The Father Dorsey Award, 2000-2001 and 2002-2003, and a Certification of Recognition from The Monroe County Legislature, April 2003. She served as the poetry advisor for New York State Foundation for the Arts, 2007-2012. She and her husband Peter Tonery lives on a small farm in Hamlin NY, where they have been practicing organic food sustainability for the past 15 years.
ISBN-13: 978-1625491916, 110 pages, $19