Within Reach, Poems by M.J. Iuppa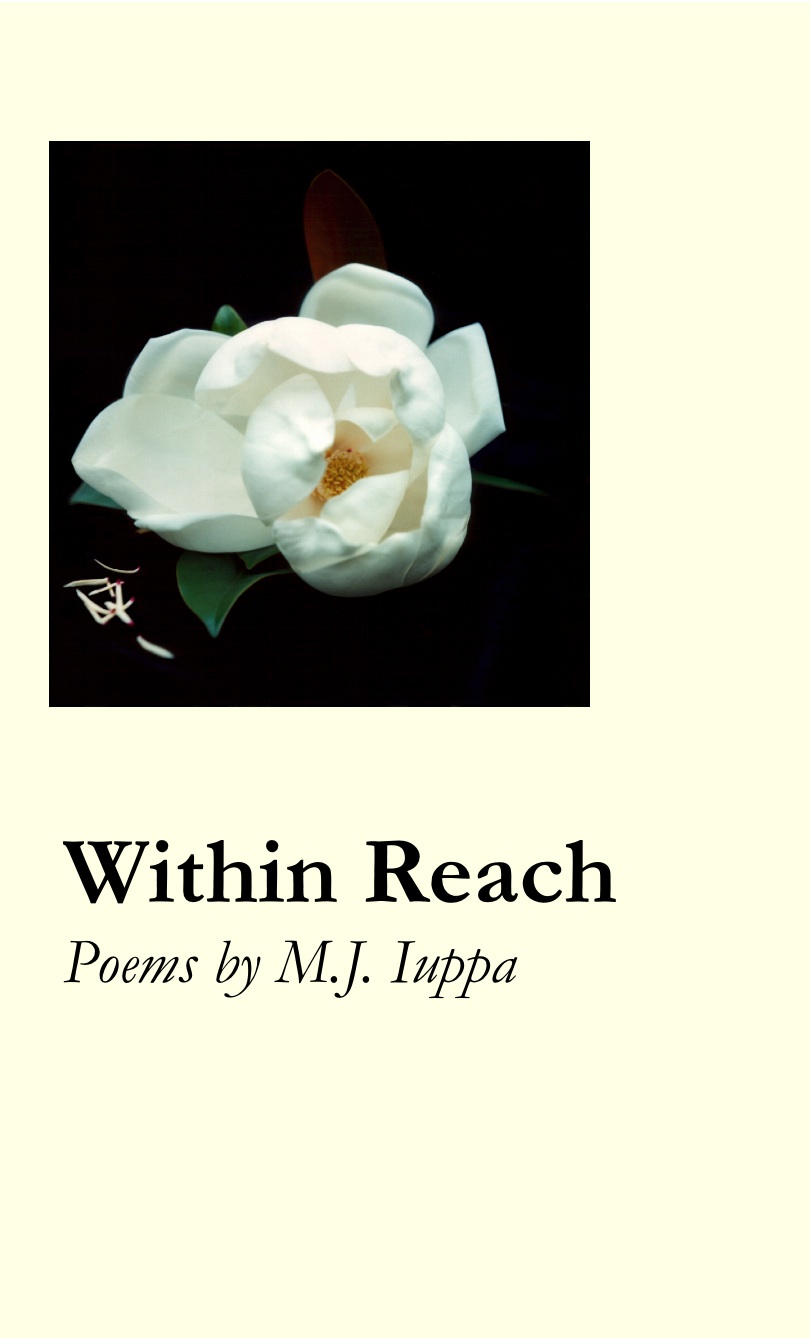 The calm, precise poems of M.J. Iuppa's Within Reach strive for connection, finding in the world's minute details implications of great resonance:
Grit I brush onto my pants,
a gesture to keep whoever's missing
within reach.
"M.J. Iuppa's territory is marriage, family, domestic life, and her corner of the natural world. Her generally plain-spoken voice, careful noticing, and engaged narratives often open to sudden, startling images and insights. I appreciate the quiet passion and the wisdom in these poems, especially as it occurs in combination with surprising flights of language. I trust this voice—trust it to tell the truth as the poet knows it, and to tell me things I don't know or didn't know I knew. The poems are guided by the wish and the will to see the world clearly—not to transform it, but to abide in it with awareness and pleasure."—Susan Ludvigson
"M.J. Iuppa's poems fill us with 'the miracles no one speaks of.' Sometimes they're quiet, communion with the mothers who've ironed an antique christening gown, the relief of finishing without scorching what's handed down. Sometimes they're silent, when 'nothing you say now / is without a price.' M.J. Iuppa's farm in upstate New York is 'a world / banking silence as its prayer / against the gathering / storm.' Amber sap yields into quiet tears that harden into our living here. She writes of the shape of survival—millet, milo, and cracked corn for birds at the feeder, ripe red haven peaches for young people taking a hard look at one another. Hard love, grit rubbed into a pant leg, keeps 'whoever's missing within reach.' Full of longing and wonder, M.J. Iuppa's poems illuminate the contradictions that keep us alive."--Peggy Shumaker
M.J.Iuppa lives on a small farm near the shores of Lake Ontario. She has four chapbooks and one full-length poetry collection Night Traveler (Foothills Publishing, 2003). In 1996, she was the recipient of the Writing In Rochester Award, honoring a teacher of writing for adult students who has impacted the creation and appreciation of literature in Rochester; and, at St. John Fisher College, she has received the Part-Time Faculty Award for Teaching Excellence, May 2000; The Father Dorsey Award, 2000-2001 and 2002-2003, and a Certification of Recognition from The Monroe County Legislature, April 2003. Currently, she is Writer-in Residence and Director of the Arts Minor program at St. John Fisher College, Rochester, New York.
ISBN: 978-1934999875, 90 pages