Into a New Country, Poems by Deborah Fleming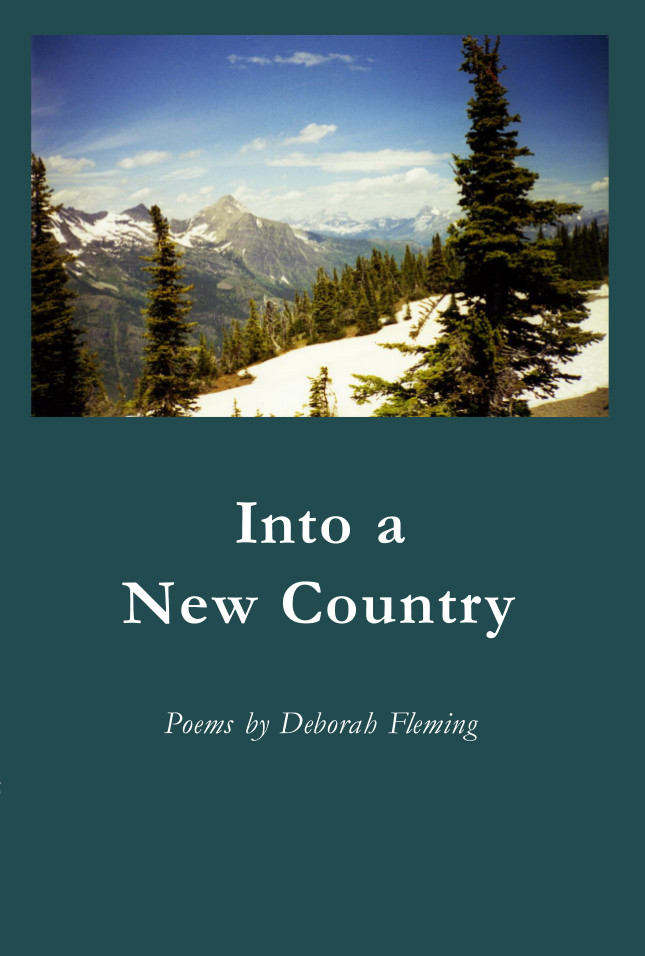 The formalist and free verse poems of Into a New Country by Deborah Fleming follow the anonymous speaker through love and loss from youth to maturity; juxtapose and explore the subjects of love, death, art, and war; and take us to locations in Europe, Asia, and America to discover new "countries" of mind and heart.
Sample Poems by Deborah Fleming
"These elegant, lyrically luminous poems absolutely ache with Deborah Fleming's love of the natural world--a world shaped not only by the transcendental flow of rocks and trees and jewelry-faceted stars, but of birds borne down to earth by the stone hearts of men, yet still crying for their freedom. Her tautly formed lines take us on a journey from the mundane to a world of mystical significance born of our individual dreams, memories, and cosmological essence. And in her vision if one walks far enough into this New Country, maybe one can 'walk into another life, one she had lived before...' when one was aware of life. This is a powerful and haunting work--a journey well worth taking!"--Jared Smith
"In this second collection, Into a New Country, Deborah Fleming demonstrates how our emotions infuse the landscape, rendering it irrevocably precious and precarious to us. Thus, when she writes in 'Brown Pelicans over San Francisco Bay, 'They did not know they were / endangered, like all beautiful things,' it's the observers as much as the pelicans she's regretting. When she asks in 'Horses of San Marco,' 'Is the muscle of the heart / ever strong enough?,' it's the observer as much as the sculpted horses or their physical counterparts that she's questioning. When she imagines a buck elk near Chernobyl as he 'cocks his ear to the inarticulate / moan of wind,' it's we who understand the dangerous though imperceptible implications of that moan. When I read these poems, I'm reminded of Wallace Stevens' challenge in 'The Snow Man,' to see 'Nothing that is not there and the nothing that is.' Deborah Fleming's poems seem always to be filling and then emptying that nothingness, enhancing and insisting on our awareness as mere nothings in the larger scheme of things who nevertheless think and feel, wreak havoc or repair."--Natalie Anderson
Deborah Fleming is the author of one previous collection of poems, Morning, Winter Solstice (2012); a novel, Without Leave (2014), winner of the Asheville Award from Black Mountain Press; and a chapbook of poetry, Migrations (2005). She has published "A man who does not exist": The Irish Peasant in the Work of W. B. Yeats and J. M. Synge (1995) and Towers of Myth and Stone: Yeats's Influence on Robinson Jeffers (2015) and articles on Yeats, Jeffers, Eamon Grennan, and Aldo Leopold. Winner of a Vandewater Poetry Award and grants from the National Endowment for Humanities and National Council of Learned Societies, she has been nominated for a Pushcart Prize. Currently she lives on a farm in northeast Ohio with her husband Clarke W. Owens (also a writer), two horses, and seven cats. She is professor of English at Ashland University and editor of the Ashland Poetry Press.
ISBN: 978-1625491718, 106 pages, $19