All Points Radiant, Poems by Brian Dickson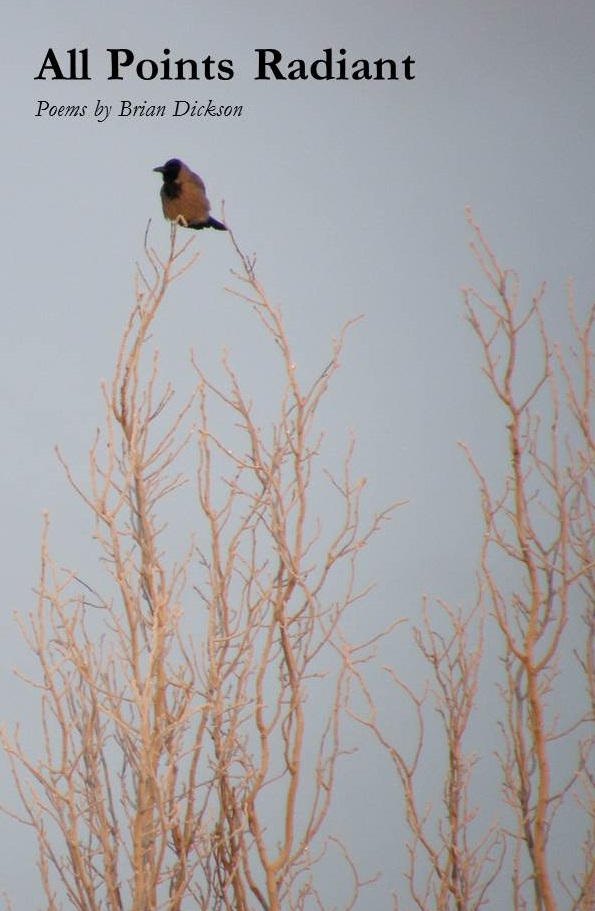 In Brian Dickson's All Points Radiant, all points—sites of intersection and redirection, forming infinite wholes—are indeed luminous, and magnificent. No point is too small for contemplation and celebration.
"This is a collection of witness, a rebirth: 'you will be born / from this mouth.' All Points Radiant is a 'new body,' and Dickson reveals how language and image can be brought to bear in processes of healing. Part elegy, part memory study, part song cycle, Dickson interrogates the nature of waiting: these poems occupy the intimate space between temporal progression and suspension, between what has happened and what will. Ultimately, what emerges from this book is a voice saying yes—to recollection and reconciliation, both of which point readers 'Not to the sense of loss, / but to the sense of a memory.'"—Jennifer Moore, author of The Veronica Maneuver
"How human language attends to human loss is one of the great projects of poetry. In this remarkable collection, Brian Dickson does something seemingly impossible—he creates a cycle of poems that are simultaneously minimal and elegiac. Dickson's poems are personal and often wrenching but never maudlin. All Points Radiant is a masterpiece of linguistic precision, emotional clarity, and poetic form. I was wholly moved by it."—Dean Rader, author of Works & Days, winner 2010 T. S. Eliot Poetry Prize
Praise for Brian Dickson's chapbook, Maybe This is How Tides Work:
"Brian Dickson's terse and shapely lyrics do what poetry does at its best: these poems arrest our assumptions about what surrounds us in our daily routines and present us with a startling and altogether more vivid alternative. 'We know what brings us here,' Dickson says, 'or so we think.' Whether it's the report of a beer can snapping open or the shriek of a blue jay who recalls us to our fundamental empty-handedness, Dickson brings a careful, transformative humility to his poetic vision. We are happy indeed to join him in 'searching for the word ripe.'—Elizabeth Robinson, author of On Ghosts
Brian Dickson is the author of two previous chapbooks Maybe This is How Tides Work (Finishing Line Press) and In a Heart's Rut (High5 Press). He teaches composition and literature at the Community College of Denver. Read more at www.dicksonwrites.com.
ISBN: 978-1625491534, 64 pages