Rope Bridge, Poems by Nan Cohen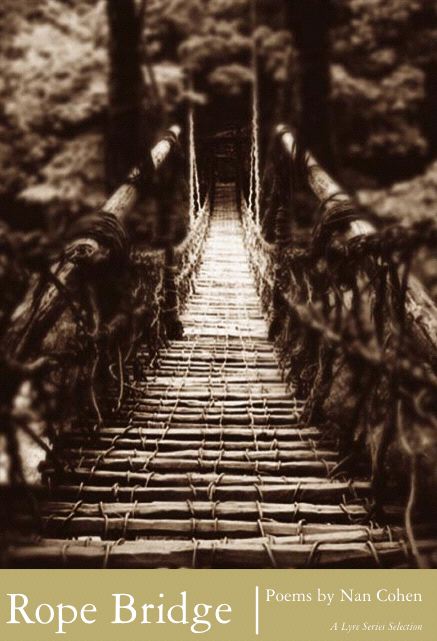 The elegant lyrics of Rope Bridge, Nan Cohen's first collection are a rope bridge across the chasm that separates human hearts; traverse them carefully and with full attention, because this bridge is the only way across, and lifesaving.
"These poems have a unique mix of subtlety and boldness. On the one hand we see the world we know through them –cold mornings, a shallow dish, a paper cup. But just as we recognize these objects, they are taken away and made beautifully unfamiliar with musical language and a rare, honest diction. The strength of this superb collection lies in its ability to build a world which is owned by the writer but can still be claimed by the reader. And the reader will surely want to claim it. This is an exceptional first book."—Eavan Boland
"The poems in Nan Cohen's Rope Bridge are breathtaking reminders of what joins us—as mothers and daughters, doctors and patients, remembered selves and who we might yet become—across the impossible divide of our existential aloneness. Marvels of empathetic engineering, great flights of the imagination given sound footing, Cohen's writing helps us to conquer our fear of high emotion, using only the humblest and yet rarest of materials: language itself. Language that, in this fine poet's thrall, allows us to be suspended gloriously in mid-air, to walk miraculously upon water."—Rafael Campo
"Too many younger poets, by virtue of a skepticism amounting to fear, have lost the feel for how to open their lives to the receptive reader; yet it is through just such materials, such intimacies—of psychological insight and emotional content—that one finds the risky appeal of poems continuing to call us. How thankful, then, that one finds these commitments here in the sure cadences and generous imagination of this first book by Nan Cohen, a work of transparent artfulness and vertical ambitions, in which inner experience finds shape in contact with the phenomenal world. I applaud and admire its understated boldness, its directness of approach, and unembarrassed conviction."—Joshua Weiner
Nan Cohen was born in Chicago in 1968, grew up in Reisterstown, Maryland, and attended Yale University and UCLA. She was a Wallace Stegner Fellow and a Jones Lecturer in poetry at Stanford University, and received a 2003 Literature Fellowship from the National Endowment for the Arts. She is Poetry Director of the Napa Valley Writers' Conference and lives in Los Angeles with her husband and daughter.
ISBN 1932339779, 80 pages