Day's Late Blue, Poems by Jennifer Burd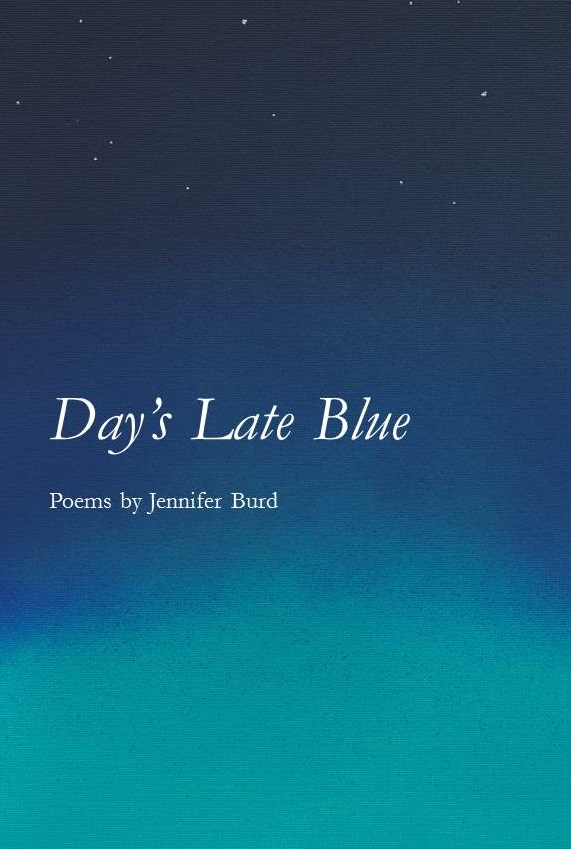 The striking lyrics of Jennifer Burd's Day's Late Blue capture, in spare detail, the inflections and evanescence of daily experience.
"In Day's Late Blue, Jennifer Burd gives us a lyric palette of life. Her poems weave shadows and light, loss and discovery with the delicate touch of an ink brush painter. The plights of the hungry, the homeless, of aging parents, of partners in a relationship at an end are etched lovingly. Burd gives the reader the anguish, the hopefulness, and the beauty of such moments - 'the way day lays down/its scarves upon the river.' You will want to linger in her poetic landscapes of the lake, the river, the late blue, the twilight times."- Janeen Pergrin Rastall, author ofIn the Yellowed House, Objects May Appear Closer and co-author of Heart Radicals.
"Jennifer Burd brings a sensitive, delicate touch to the dailyness of life, creating atmosphere and placing her incidents and stories warmly within the folds of that reality. She is equally at home with nesting birds as she is in portraying her mother's failing memory and her father's loss of hearing. She writes without fuss or melodrama and, along the way, offers a handful of ghazals which I can confidently say are among the most successful renderings of that genre in English."- Saleem Peeradina, author of Final Cut and Slow Dance.
"In this beautiful collection, Jennifer Burd teaches us how to live after loss. Through the natural world of lakes and birds, and the lives of others we learn how 'fragile things/ move, like wishes.' A life can continue after being broken, can 'set out/ under the now cloudless/ sky and open wide.' We're invited to rejoin the world again and again in these poems, never forgetting loss -'the tumbling stalks and vines/ gnarled and grooved, remember' - while we turn our eyes to the expansive landscape before us and entertain possibility."- Julie Brooks Barbour, author of Haunted City and Small Chimes
Jennifer Burd lives in southeastern Michigan, which has been home to five generations of her family of origin on both sides. Her previous collections of poetry include Body and Echo (2010) and Receiving the Shore (2016). She is also the author of a book of creative nonfiction, Daily Bread: A Portrait of Homeless Men & Women of Lenawee County, Michigan (2009). Burd received her MFA in Creative Writing from the University of Washington in Seattle; she teaches writing and literature classes at Jackson College, Jackson, Michigan, as well as creative writing classes through The Loft Literary Center in Minneapolis.
ISBN: 978-1625492401, 114 pages