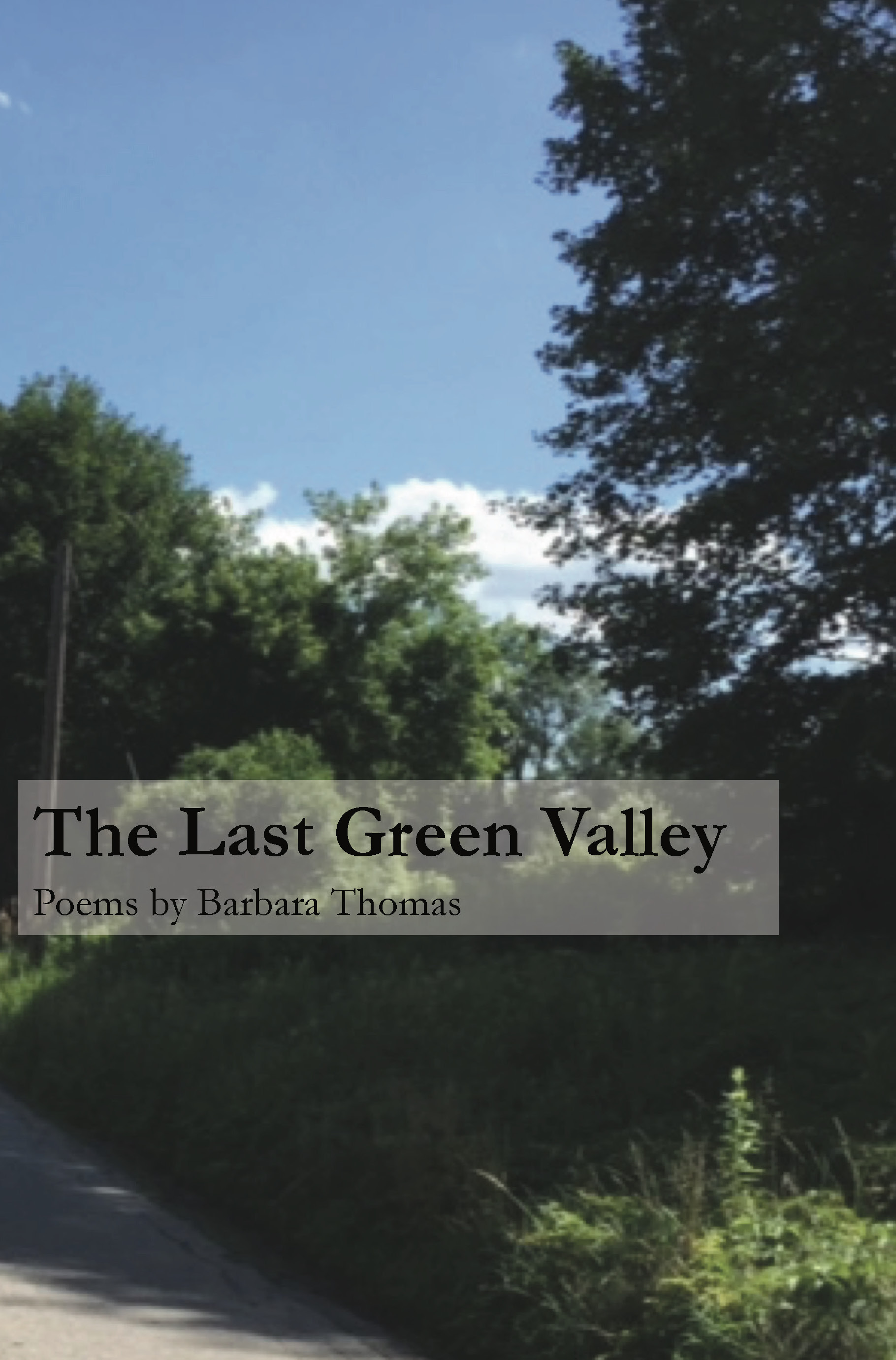 The Last Green Valley, Poems by Barbara Thomas
The voices in Barbara Thomas' poems "serve the tray of hospitality": a rich sampling of sounds, rhythms, cadences, artfully phrased and precisely sung.
Sample Poems by Barbara Thomas
"Rich in evocative detail, Barbara Thomas's new book juxtaposes geographies and generations, one green valley nesting inside another. The poet opens the book and later returns it to her mother's birthplace in a borderland that once was Greece; in between, she revisits her own childhood in a nearly Edenic Connecticut lush landscape, fondly depicted relatives, and tempting foods are the stuff of Thomas's memories. But an inescapable awareness that both places and people are gone gradually makes loss the inseparable but profound companion of memory."--Martha Collins
"This book of poems is a celebrations of wholeness and completion. Beginning with parent and grandparents emigrating from northern Greece, and ending with the poet herself glimpsing the valley they came from, Barbara Thomas draws a wide circle of affirmation. Within it is 'air so fresh you can taste it ' and wildflowers 'more delicate than rainbows.' Within that circle are stories of struggle and endurance, loss and death. There are also signs and hints that suggest we are sustained by the love and abiding care we have witnessed in those who have come before. The Last Green Valley puts us in touch with that essential and humane wellspring of heart."- Fred Marchant
"In Barbara Thomas's very beautiful poem, 'Northern Epirus,' her mother offers a passing remembrance of the dispossessed place of her origin, her village by the Aoös River, as 'Air so fresh you can taste it.' Everywhere in this dignified book one can taste the freshness of cadences as utterly unforced and as delicately modulated as the breath of loss itself made vivid transcription. The flow of lucid language, like the flow of the Aos River that leads directly into her own American childhood of growing up by the Quinebaug River, and of her father's doomed mill, and all the minutely recorded particulars of one landscape recalling the particulars of the other long gone overseas one. And then there's that other river the River of Oblivion, kept at bay, at least by the Orphic registers of poetry. The delicate power in the poetry of Barbara Thomas recalling, through the recipes of ancient Greek traditions, the way to preserve the family gathering."- George Kalogeris

Barbara Thomas grew up in The Last Green Valley. She earned a Masters Degree From Boston University in Education and taught English and Reading in the public schools for 35 years. While a special student at Harvard University, School of Education she wrote an award winning program, Literature, Life-Cycle and Inner-Stories for high school students. She is active in the Boston/Cambridge poetry community and has given many poetry readings and workshops, and nature-writing walks. While studying at the Joiner Institute's Writers Conference, she was invited to participate in the Jeff Male Memorial Reading for publishing the chapbook, Seduced by Sighs of Trees, Cloudkeeper Press, 2007. She has also published work in The Paterson Literary Review, 2015-2016,Fiele-Festa, (online 2015), Lalitamba, 2006, the Greek-Institute Newsletter, Writing Nature, Small Press Review, Bagel Bard Anthology #4, and other journals.
ISBN: 978-1625493279, 102 pages